Heading out on the open road should mean a sense of freedom and adventure, but running into trouble can quickly turn a great outing into an unpleasant experience. Therefore, ensuring your car is always fully stocked with necessary items is important. Having these things handy will save you time and headaches down the line, and provide the peace of mind that comes with being prepared for any eventuality, no matter where you're headed. Take a look at the essential items you should always keep in your car.
First Aid Kit
No one anticipates getting into an accident or experiencing a medical emergency while driving, but it can happen. For these reasons, keeping a first aid kit in your car is imperative. Whether you have a minor injury, such as a scrape or cut, or a more critical situation, having a well-stocked and readily available first aid kit can make all the difference. Knowing a few tips for creating an emergency car kit is also helpful since you want to be prepared for any situation that arises to ensure the safety and well-being of yourself and your passengers.
Spare Tire and a Jack
Being stranded on the side of the road with a flat tire is a stressful scenario. That's why it's important to keep a spare tire and a jack in your car. These simple tools can save you from a lot of hassle and frustration, allowing you to change your tire and get back on the road in no time. It doesn't take a lot of effort to keep a spare tire and a jack in your trunk, but they can make a huge difference when you need them most. Don't wait until an emergency arises to realize the importance of these items.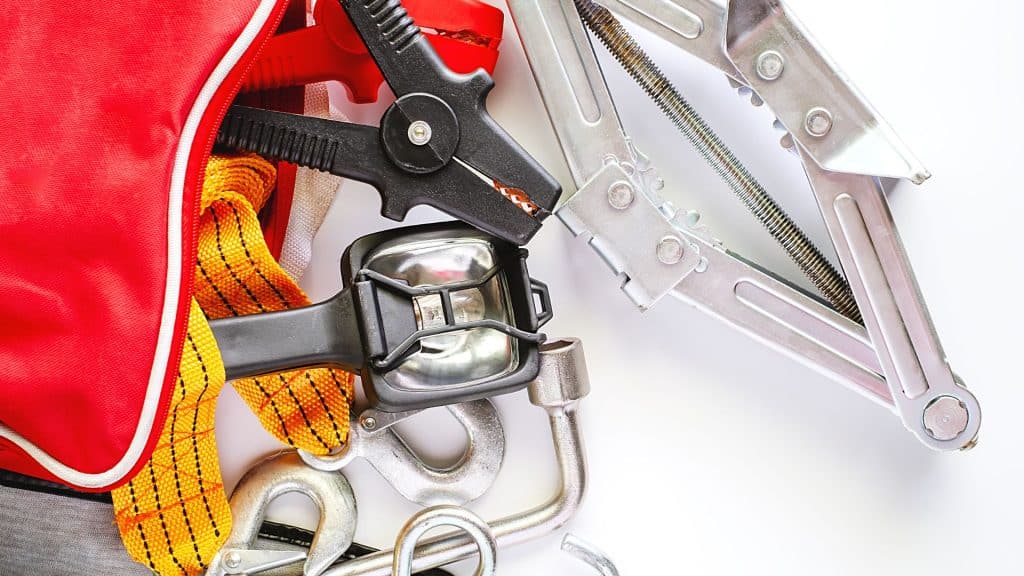 Jumper Cables
You never know when you might find yourself stranded with a dead car battery. Sure, you can call for roadside assistance and wait for them to arrive, but why waste all that time and money when you could just keep a simple tool on hand—jumper cables. With a good set of jumper cables in your trunk, giving your car a quick jump-start should not be an issue. Not only will having jumper cables available save you time and money, but it will also give you peace of mind while on the road.
Tool Kit
As a responsible driver, it's crucial to stay prepared for any unforeseen circumstances on the road. That's why a tool kit in your car can come in handy during emergencies. You never know when you might experience a mechanical breakdown or a flat tire, but a well-stocked car tool kit can help you fix the problem quickly and get back on the road safely. Essential tools to include in your car tool kit are a jack, lug wrench, jumper cables, flashlight, duct tape, pliers, screwdrivers, and a tire pressure gauge. These tools can help you fix common car issues and avoid being stranded on the road.
Now that you know what important items you should always keep in your car, you can stock up on the essentials today. By doing this, you ensure that you are prepared for any situation that may arise while on the road.