The Pros and Cons of Vehicle Undercoating
Are you currently thinking about undercoating your car? If so, you're far from alone. Car undercoating has actually been getting a lot of traction recently. Those who are big vehicle aficionados often are big proponents of undercoating as well. If you're contemplating the undercoating your car in the near future, then you should put time into delving into its advantages and disadvantages. Undercoating is just like anything else in this life in that it has both good and bad sides.
Video Overview
The Fundamentals of Car Undercoating
Car undercoating, in a nutshell, is a type of defensive layer that's applied to the undercarriage of vehicles. These sections are close to significant deterioration all of the time. It isn't uncommon for drivers to neglect to pick up on destruction until a lot of time has gone by and it is too late. Driving is a process that forces tiny specks from the ground to travel into the lower parts of cars. These specks gradually damage the car's undercarriage, leaving cracks and crevices, where rust forms. They can often be the cause of mechanical breakdowns. If you want to do everything you can to boost the longevity of your vehicle, then undercoating may be the ideal strategy for you.
Learn Vehicle Undercoating Pros and Cons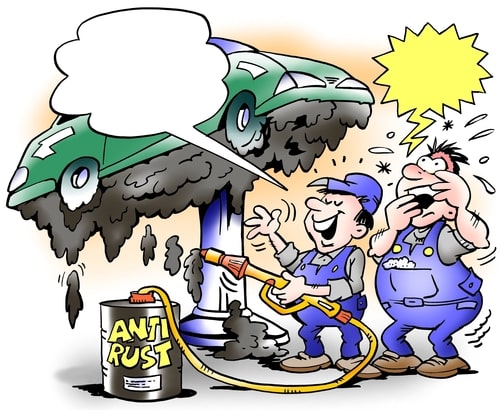 Rust doesn't have many enthusiasts, and understandably so. If you ignore the idea of undercoating work, then you may leave your vehicle a lot more susceptible to the emergence of disagreeable rust. Overtime this rust will cause corrosion and can lead to part failure and a whole host of other issues. Rust is not just ugly, but can trigger a number of different system breakdowns, such as leaks that can lead to gradual fuel wasting and even sizable components like the engine and transmission failure. System harm can be frustrating. If you don't defend your vehicle with A+ undercoating work, then you may make it a lot more vulnerable to system harm.
If you steer clear of vehicle undercoating, then that may impact your vehicle's resale value. If you don't want to compromise this in any way, then undercoating can be highly intelligent. The addition of rock-solid defense can do so much for vehicle value. It can do a lot for your relaxation as a driver day in and day out, too. Poor car resale value can make completing sales markedly more difficult, stressful and time-consuming for you.

Car undercoating can be brilliant for a wealth of reasons. It can be pretty costly, however. If you are not planning to keep the vehicle for long or if your car is significantly older, you may want to skip this protection method. Undercoating works best for new cars. Cars that have been used are already susceptible to road damage and rust will have already begun to set in. It is important to mention that undercoating will unfortunately not protect the car from damage that has already occurred, however it can stop any further damage from manifesting. This is due to the fact that undercoating is a sealing method, so just as it will keep moisture, dirt and debris from getting in and cause rust, it will seal the present rust in. This is why it is crucial to have the car's underbody thoroughly cleaned before having any undercoating work performed.
If you are considering undercoating your car, it is a good idea to weigh the pros and cons before making your decision. While undercoating is not rocket science, it is important to also keep in mind, that if it is not done right, it is useless. Even just one crack left unsealed will allow rust to form and leave your vehicle susceptible to corrosion and system harm. So finding a reputable shop that will take the time to undercoat your car properly is important.
Check here if you're looking at how to undercoat your truck or some additional Pros and Cons of Undercoating Your Vehicle.