It is safe to say that the FT-4X is the future of Toyota's four wheel cross over brand. The off road car fits aesthetically within city boundaries making more appealing to customers worldwide.
The FT-4X was designed in Toyota's facilities called Toyota's Calty Design Research that is in Newport Beach California.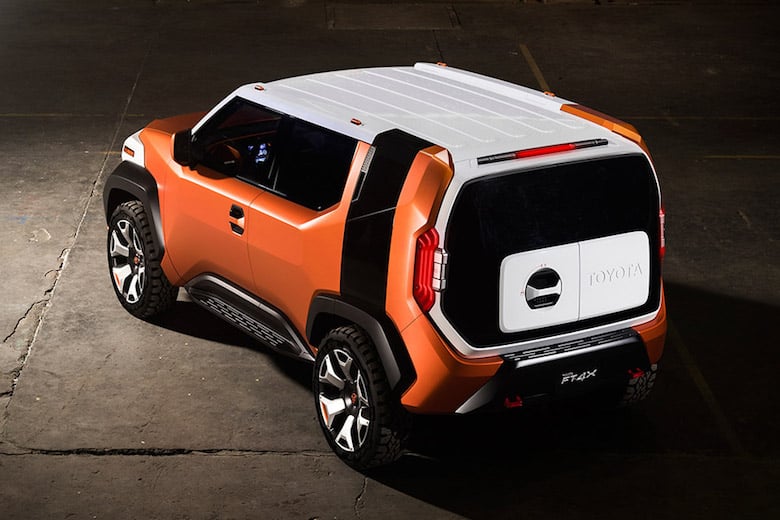 It sits on four Good Year tires designed for offloading and city use as well. The two door coup has a sleek design around its doors. At the bottom they have  jagged jack-knife shaped edges giving it a bold look Toyota has swayed away from in recent years. It resembles their previous model the Mega Cruiser in many ways except that it has two doors and designed for inner cities.
It has a bumper very similar to the Mega Cruiser as well but is looks much more futuristic and timeless. BMW has carried a very similar bumper throughout their 3 and 5 series line to give them a timeless look as well.
By looking at the lights you can tell they were going for aesthetics more than performance. Since it is an offload car drivers are probably not going to be needing large lights anyway. A key factor that helps the cars ability to perform is that both the headlights and tail lights are placed high making it easier to not get debris on them and also making it easier for other drivers to see where they are.
Its trunk is completely redesigned from any other off road vehicle. It has two doors with one lever that opens by turning it counter-clock wise! This futuristic almost video game experience is great because it shows that Toyota has the capability to make opening the trunk a fun experience.
Have you ever needed to charge your phone on the go but do not like using  car ports that your Uber driver provides? Well the new Toyota FT-4X Concept has a car port on the hood of the car making charging and playing music outdoors easier than ever. That's right, just put your speakers on your car and jam out,.