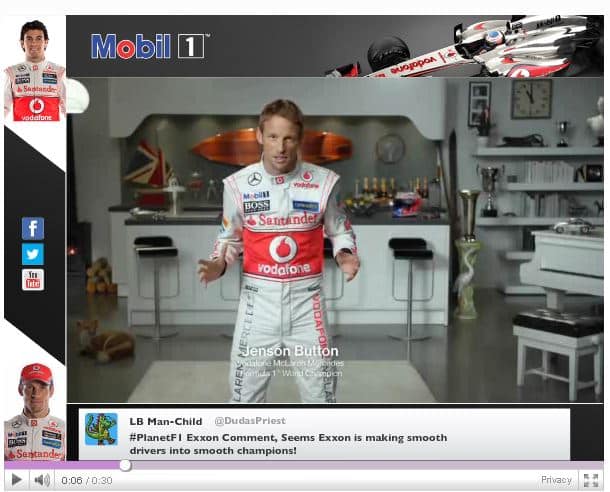 Exxon Mobil The Ultimate Gas and Oil For Any Car
Hey Auto lovers, today we bring you some funny video clips from Exxon Mobil, one of the world's leading energy companies. In case you are not aware of their oil let today be your lesson. No matter whether you are driving a race car or the equivalent super fast BMW on the streets you need to take good care of your engine and the best you can get is Mobil 1 oil. After using this for years for my Beamers and other cars I can truly say that it has taken good care of my cars and also given them the performance boost they really need.
The video below is pretty funny and featured the grand prix racers talking about the importance of stretching and how important it is to do the equivalent for your car which is keeping it well lubricated. After the video finished a cool graphic comes up which is interactive and lets you explore the different areas of a race car and how the Mobil oil and fuel help to drive excellent performance. One of the areas shown (number 6) pulls up the Mobil High Performance Unleaded Race Fuel which has (5.75 Bio Components). They mention that this, "Helps provide improved engine power and reduce power degradation during the life of the engine. Fuel is also developed to provide improved volumetric and gravimetric fuel consumption helping reduce the size of the fuel tank and saving weight." I definitely could not have mentioned or explained it any better so a quote was definitely the right call.
There are many areas of a car that you may not think are important to focus on to improve performance but even ensuring that there is Moiblth SHC(TM) 220 Grease in the ceramic wheel bearings will help to maximize the engine speed and protect from too much resistance. Anyways let us know your thoughts on this video and also the interactive part after.
Please leave us notes on your favorite part of the interactive section so we can share our thoughts with you too and become better and more informed auto owners and lovers!