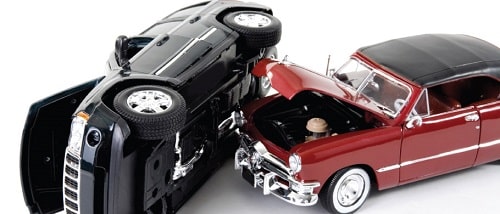 We've all either experienced or witnessed a car accident/incident of some kind. They aren't fun; most of them are pretty boring events the involve storm damage or fender benders.  Sometimes, however, we hear about some truly bizarre accidents that we can't help but laugh at.  Below are my top 5 amazing  road traffic accident claims.
Number 5
Seattle, Washington, December 2011, a three car pile-up has been reported and you will never guess the cause.    A male and female couple had purchased a mattress and failed to properly attach it to their roof. The mattress flew off their SUV causing 3 cars to collide.  This wasn't the funniest part though.  The female driver took off leaving the male passenger to deal with the mess.  Two good Samaritans stopped to help; the male from the SUV was caught on camera stowed away hoping to avoid dealing with the conflict.
Number 4
In rural England an Armstrong Siddeley car that was beautifully washed and polished was left in a farmyard by its owners.  It was so shiny that when a ram entered the farmyard he saw his reflection in the car and thought that there was another ram intruding on his territory.  As a result the ram butted the car to try to get it out.
Number 3
In Scotland, a family was on an outing with their dog Ruby.  As is typical, Ruby jumped into the car before her owners, and when she did, she disengaged the handbrake.  The car started rolling down the hill from where it was parked.  The car was stopped, but not before knocking over a fence and colliding with 2 cars.
Number 2
My number 2 amazing car insurance claim reminds me of a scene right out of the Three Stooges.  The driver was involved in multiple accidents in succession.  It all started when he ever so slightly rear-ended the car in front of him. Being the responsible driver that he was, he backed up a little bit in order to check the damage to both cars.  When he did this, he tagged the bumper of the car behind him.  As if his luck weren't poor enough already, he knocked over a passing cyclist when he opened the door to exit his vehicle.
Number 1
My number one amazing accident claim involves another interesting animal.  In England a man was parked in his car on the side of the road watching the circus come into town.  He was enjoying the parade when an elephant passed by and dropped his trunk through their open window to steal the driver's lunch.  When he had eaten his fill he tried to back out, but was stuck.  In his efforts to escape from the Morris Minor Van window the elephant broke the Triplex window.  The driver attempted to fill out an insurance claim form, but couldn't bring himself to finish it because none of the questions seemed to fit.
Remember if you have been involved in an accident that wasn't your fault you should look at making a claim with a decent reputable solicitor such as Claim Today from Nottingham who will look at your case thoroughly and aim to get you the best pay out possible.